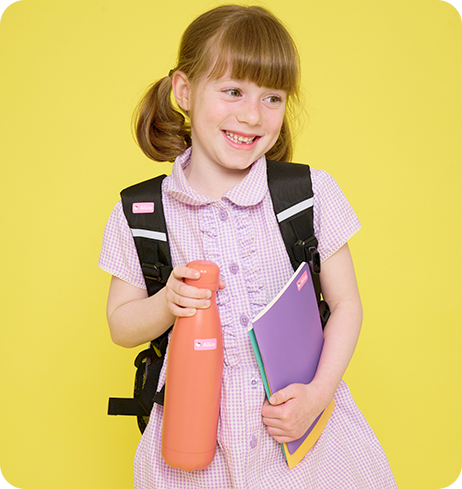 ALICE'S FIRST DAY OF SCHOOL
Alice was excited for her first day of school; Rushing with her backpack through the crowd, she accidentally bumped into Sophie, scattering both of their belongings all over the floor! After quickly picking up their stuff, they headed to class. While preparing for PE, Alice noticed the peach water bottle in her bag wasn't hers. Despite searching her locker and lost property, her favourite bottle was still missing.

During PE class, she spotted Sophie with a peach water bottle, and Alice realised that they must have exchanged bottles earlier. Alice asked Sophie if she could see the bottle as Alice remembered that her mum had attached a name label to all of her school belongings. Her face lit up when she saw her label attached to her peach bottle!