Where do children lose their valuables? Mothers share their stories
Schools & playgrounds – the two places children lose their valuables the most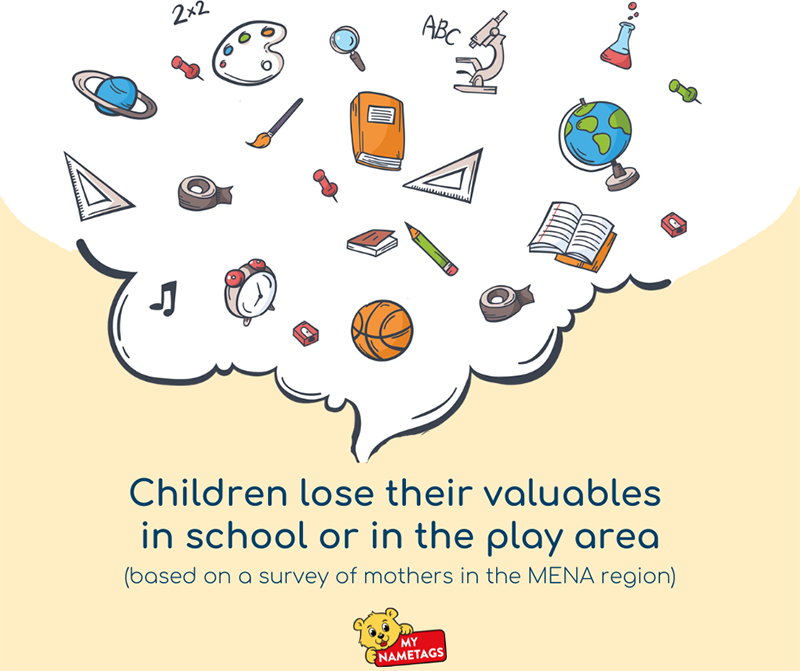 In a recent survey by My Nametags, one third of mothers in the MENA region report that their children lose their valuables most frequently at school. Classrooms can be a hectic place for children, and items can often be misplaced or forgotten. Mothers also report that valuable items also go missing in playgrounds or play areas (which came in as the second highest response).
My Nametags, the UK-based personalised sticker and label maker for children, sought to understand the frustrations of mothers, and how often their children lose or misplace items. The results were astounding, showcasing that mothers across the MENA region have the same concerns.
All of the mothers surveyed shared that their children's belongings, from water bottles to backpacks, uniforms or lunchboxes, do not seem to make it back home. This happens every week or every month, in 42 percent of the cases. Most mothers surveyed confess however, that sometimes, they have no idea where the item has gone and some children even manage to lose their valuables at home 20 percent of the time.
This, in turn, results in quite a few tears (on the child's part) and growing expenses for families, who have to replace these items.
However, there is a solution that all the mothers agree on. They share that having personalised and labelled items can help their children keep track.
Mothers share that having personalised and labelled items can help their children keep track.
My Nametags, which was founded in 2004 in the UK, has been personalising labels and stickers for decades, to help mothers and their children keep tabs of individual belongings, in 127 countries globally. In the UAE, My Nametags has been supporting mothers and their children personalise their valuables since 2007.
As a recipient of the prestigious Queen's Award, My Nametags was recognised for its excellent business performance, offering high quality standards in customer service and employee care.
Check out the latest from My Nametags, with labels available in both English and Arabic typography, to suit the unique personality of every child.